We have developed our own unique and innovative system solution for monitoring of whole service life and ecological aspect of storage tanks and terminal pipeline, including technology of storage tanks terminals - ASTlife programme. ASTlife is based on the combination of two approaches - risk based inspection (RBI) and reliability centred maintenance (RCM). It is a fully web-based programme with offline application for android tablets. Core server executive programme with android application for management of on- or off- stream inspection and data collection are strong tools for effective storage tanks inspection.
Philosophy of the ASTlife programme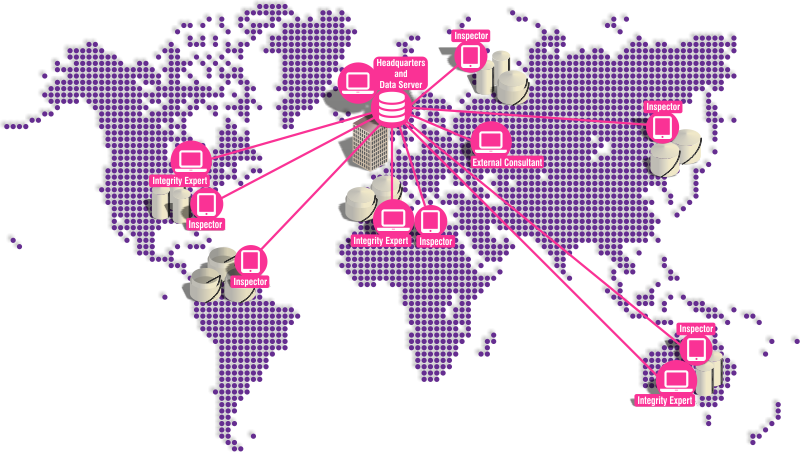 Database server – web-based application
The ASTlife programme has been developed as a web-based application, it runs on a server-side database and communicate with accessing clients. This software structure has several great advantages:
No client installation - A Web-based front end minimizes installation issues. Users need only a browser. The database does not distinguish whether the user is sending requests via a Windows PC, Mac, or a computer running Linux.
Easy cross-platform usage – You are free to use your language of choice to create the Web interface and the code that the server users to interact with the database.
Simplified security - Storing the database in a non-shared folder restricts access. Only the Web server's administrator has access to the database file. That leaves security to the Web server.
No version problems - A Web interface eliminates version incompatibility issues because the Web server uses Jet.
Tablet – Android application for offline usage
It is possible to use ASTlife as web-based application on the portable devices like as tablets, but for these kind of usage it is necessary have wireless connection to database server. It is not so convenient for on-site usage. This is why we developed special application for tablets with Android. This application helps on-site inspectors to manage their inspection activities. After synchronization of this application with database server the inspector obtains a schedule with inspection activities that must be performed, also they obtain check-lists for storage tanks and each item that must be checked. This enables this application to become a smart electronic check-lists and valuable data collector. It is very easy in the application for each item in check-list to add photo, sketch, etc. Because this application runs offline, so site inspector does have not to care about network access and they need not hesitate to perform inspections of underground facilities. With this application each inspections will be very comfortable and effective.
ASTlife is based on the combination of two approaches
Risk Based Inspection (RBI)
RBI methodology is a very flexible approach to planning and choosing of appropriate inspection activities of assets. It combines on the one hand the increasing demand for safety and reliability of structures, and on the other hand the economic requirement for effective planning, cost savings and economies of inspection structures of operators.
A key factor of RBI methodology is the correct assessment of probability of failure of the structure or component. It requires perfect knowledge of the degradation mechanisms. Also it is very important to correct classification of the potential consequences on safety, environment and operating losses of failure.
Reliability centred maintenance (RCM)
RCM is a technical tool created to preserve the inherent reliability of equipment by optimizing of maintenance activities to achieve the specified safety requirements, eligibility, availability and cost saving, in the context of the required operational safety. The RCM method identifies an activity for preventive maintenance to avoid or mitigate the consequences of a particular failure mode. The RCM method assesses the operational integrity as opposed to the RBI, which evaluates the structural integrity.
RCM is a unique method for determining the minimal safe maintenance activities that are necessary to ensure the proper functioning of technical systems.